[ lossless audio ]


NOTES : I'm well aware that this NINA HAGEN BAND page hasn't got too much content yet, but that
absolutely has to change. NINA HAGEN BAND and NOT Nina Hagen, to make this quite clear, as I.
regard what Nina did after the first two albums "Nina Hagen Band" and "Unbehagen" not only as
musically irrelevant but poor. So if there is anybody out there who has any audio (video
I already have and I am not so much interested), please get in touch! That would
basically have to be concerts from the two Germanies, as the real musical
atrocities (that's mho and I'm certainly fine with anyone liking it
anyway) were committed elsewhere...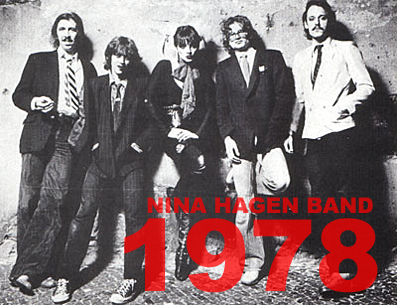 INTERVIEW

NINA HAGEN BAND "Some radio station [NDR? Radio Bremen??], first week of November 1978"
(07:48 min, 6 tracks, 1978, FM, origin: FLAC)
[transcription / translation]

01 interview 00:58
02 interview 01:24
03 interview 00:21
04 interview 01:15
05 interview 02:26
06 interview 01:24


NINA HAGEN BAND "Swiss Radio DRS2 [broadcast of March 1979], interview probably January or February 1979"
Original title: "Der Punk, der aus dem Osten kam - ein Nina Hagen-Porträt"
(62:20 min, 22 tracks, 1979, FM master, origin: FLAC)
[feature including music & interview]

01 intro 01:23
02 TV Glotzer (White Punks On Dope) [Nina Hagen Band] 05:28
03 Interview Part I 01:58
04 Disco-Mampf [Ulla Meinecke] 03:15
05 Statement Udo Lindenberg - Nina Hagen 01:26
06 Rangehn [Nina Hagen Band] 03:14
07 Interview Part II 02:35
08 Auf'm Bahnhoof Zoo [Nina Hagen Band] 05:32
09 Interview Part III 02:01
10 Das ist ein Tango [Fritzens Dampfer Band feat. Nina Hagen] 03:06
11 Interview Part IV [cut] 05:58
12 Du hast den Farbfilm vergessen [Nina Hagen & Automobil] 03:12
13 Warte nicht auf bessre Zeiten [Wolf Biermann] 00:51
14 Interview Part V 00:56
15 Pank [Nina Hagen Band] 01:50
16 Interview Part VI 02:25
17 Naturträne [Nina Hagen Band] 04:18
18 Interview Part VII 02:21
19 Heiss [Nina Hagen Band] 04:05
20 Interview Part VIII 01:23
21 Unbeschreiblich weiblich - Fisch im Wasser [Nina Hagen Band] 04:41
22 outro 00:13


LIVE

- 1978 -

NINA HAGEN BAND "Markthalle, Hamburg, Germany, November 8th, 1978"
(57:39 min, 14 tracks, 1978, 1st gen audience, origin: FLAC)

01 intro 01:30
02 Unbeschreiblich weiblich 04:19
03 Heiss 04:04
04 Auf'm Rummel 04:56
05 The Love Of A Boy [Timi Yuro] 04:03
06 Fall In Love mit mir 03:39
07 Auf'm Friedhof 06:07
08 Der Spinner 07:32
09 Superboy 04:42
10 Herrmann hieß er 02:52
11 Auf'm Bahnhof Zoo 04:40
12 Pank 04:37
13 My Way [Frank Sinatra] 04:20
14 audience 00:13


NINA HAGEN BAND "Westfalenhalle, Dortmund, Germany, December 9th, 1978" [Rockpalast]
(59:40 min, 15 tracks, 1978, linear PCM rip, origin: FLAC)
[off official 2012 DVD release]

01 Rockpalast jingle 00:14
02 announcer 00:12
03 TV Glotzer 05:48
04 Naturträne 04:10
05 Unbeschreiblich weiblich 03:50
06 Heiß 04:01
07 Auf'm Friedhof 06:43
08 Der Spinner 03:12
09 Superboy 04:09
10 Auf'm Bahnhoof Zoo 06:04
11 Rangehn 03:36
12 Pank 03:59
13 My Way [Frank Sinatra] 04:24
14 encore screams 01:59
15 Hermann hieß er 07:13


- 1979 -

NINA HAGEN BAND "Musensaal, Rosengarten, Mannheim, West-Germany, March 22nd, 1979"
(80:56 min, 18 tracks, 1979, audience master, origin: FLAC)

01 Heiss 04:00
02 Ballade vom Briefträger Kutte [Wolf Biermann] * 04:32
03 Wenn ich ein Junge wär 02:31
04 Superboy 03:58
05 The Love Of A Boy [Timi Yuro] 02:24
06 Nina verlässt genervt die Bühne - Fisch im Wasser 02:24
07 Auf'm Rummel 03:40
08 Fall In Love mit mir - La Paloma 03:40
09 Wir leben immer noch [Lucky Number] 04:48
10 African Reggae 07:01
11 Herrmann hieß er 06:18
12 Auf'm Friedhof 06:49
13 Der Spinner 03:20
14 Alptraum 06:18
15 Auf'm Bahnhof Zoo 05:06
06 Pank 04:41
17 My Way [Frank Sinatra] 06:04
18 My Generation [The Who] 03:15

NOTE: * unreleased







contact Plasmatzee