[ lossless audio ]


DEMO

MERCYFUL FATE "Demo #1" (16:12 min, 1981, 4 tracks)*

- Walking Back To Hell / Running Free / Black Masses / Hard Rocker -

NOTE: This has been in my collection for quite a while. At first I
thought I had an original demo, than I thought it's a fake. Then
again, I compared it to some of the demo versions included on
the official "Return Of The Vampire" release and found that
mine definitely sound better. Very strange, indeed.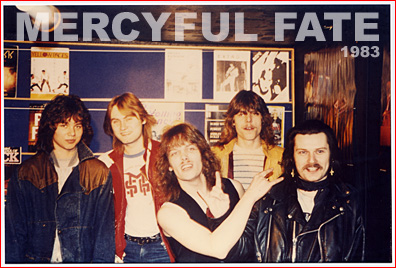 MERCYFUL FATE "Demo #2" (34:22 min, 1982, 5 tracks)*

- Curse Of The Pharaohs / Return Of The Vampire / A Corpse Without Soul /
Burning The Cross / Shadow Night [live 1981] -


REHEARSAL

BRATS [pre-MERCYFUL FATE] "Rehearsal of January 18th, 1981"
(23:48 min, 1981, 4 tracks, origin: FLAC)

- Some Day / Death Kiss / Combat Zone / Love Criminals -

NOTE: Extremely low generation, from trade.


BRATS [pre-MERCYFUL FATE] "Rehearsal of January 18th, 1981"
(55:27 min, 1981, 9 tracks, my own transfer of the boot LP and 7")
[18th January 1981 I + II vinyl bootleg]

- Some Day [Desecration Of Souls] / Death Kiss [A Dangerous Meeting] / Fightin' For The Nighthood [unreleased] /
Combat Zone [unreleased] / Love Criminals [Into The Coven] / Night Riders [Curse Of The Pharaohs] /
Sometimes You're Deadly [unreleased] / You Asked For It [Black Masses] /
Powers Of Darkness [Return Of The Vampire] -

MORE BRATS


LIVE

- 1981 -

MERCYFUL FATE "Taastrup, Copenhagen, Denmark, unknown date, 1981"
(41:53 min, 1981, 8 tracks, SB, origin: FLAC)

- Doomed By The Living Dead / Curse Of The Pharaohs / The Sabbath Of All Witches** / The Witch** / Walking Back
To Hell / On A Night Of Full Moon / Guitar Solo Hank Shermann / Return of the Vampire -


MERCYFUL FATE "Live Somewhere In Denmark, Fall 1981"
(??:?? min, 1981, 2 tracks, off LP bootleg)

- Curse Of The Pharaohs / Shadow Night -


MERCYFUL FATE "Unknown Venue, Harlev, Denmark, 31st October 1981"
(65:55 min, 1981, 10 tracks, soundboard recording)

- Corpse Without A Soul / Walking Back To Hell / On A Night Of A Full Moon / Return Of The Vampire / Black Masses /
Satan's Fall / Doomed By The Living Dead / Shadow Night / Guitar Solo / Curse Of The Pharaohs -


- 1982 -

MERCYFUL FATE "Saltlageret, Copenhagen, Denmark, March 7th, 1982"
(79:48 min, 1982, 14 tracks, SB, origin: SHN)

- Intro / Black Funeral / Curse Of The Pharaohs / Into The Coven / A Corpse Without Soul / Satan's Fall / The Witch
(Melissa) / Return Of The Vampire / Doomed By The Living Dead / Nightmare / Devil Eyes / Denner -
Sherman Jam / Nuns Have No Fun / Walking Back to Hell -


MERCYFUL FATE "Cattle Trade, Ulicoten, Holland, September 25th, 1982"
(62:58 min, 1982, 10 tracks, good audience, origin: FLaC)

- Black Funeral / Curse Of The Pharaoes / Into The Coven / Doomed By The Living Dead / Satan's Fall / Black
Masses / A Corpse Without Soul / Come To The Sabbath / Devil Eyes / Nuns Have No Fun -


MERCYFUL FATE "Odd Fellow Palaet, Copenhagen, Denmark, October 5th, 1982"
(54:07 min, 1982, 9 tracks, radio show CD bootleg "ROTLD")

- Black Funeral / Curse Of The Pharaohs / Into The Coven / A Corpse Without Soul / Return Of The Vampire /
Devil Eyes /Nightmare / Nuns Have No Fun / Satan's Fall -


MERCYFUL FATE "Live From The Depth Of Hell" [LP bootleg, my own transfer]
(61:42 min, 198?, 13 tracks, off LP bootleg, obviously a radio show)

- Intro / Black Masses / Curse Of The Pharaohs / Evil / Into The Coven / Gypsy / Reyarp Sdrol / Corpse Without Soul /
/-/ The Oath /Doomed By The Living Dead / At The Sound Of The Demon Bell /
Satan's Fall / Satan's Solo / Nuns Have No Fun -


- 1983 -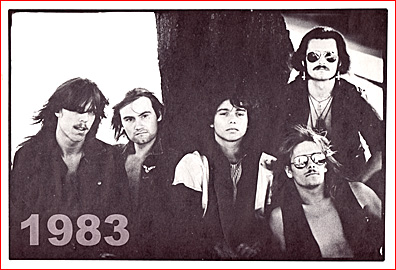 MERCYFUL FATE "Willem 11, Den Bosch, The Netherlands, February 22nd, 1983"
(58:27 min, 1983, 10 tracks, SB, origin: FLaC)

- A Corpse Without Soul / Doomed By The Living Dead / Black Masses / At The Sound Of The Demon Bell /
Satan's Fall / Into The Coven / The Oath / Curse Of The Pharaohs / Evil /Nuns Have No Fun -


MERCYFUL FATE "Aardshok Festival, Brabanthallen, Den Bosch, Holland, June 25th, 1983"
(60:09 min, 1983, 10 tracks, SB, origin: FLaC)

- A Corpse Without Soul / Doomed By The Living Dead / Black Masses / At the Sound Of The Demon Bell /
Satan's Fall / Into The Coven / The Oath / Curse Of The Pharaohs / Evil /
Hank Shermann solo - Nuns Have No Fun -


- 1984 -

XXX MERCYFUL FATE "The Dynamo Club, Eindhoven, Holland, 19th January 1984"
(11:40 min, 1984, 2 tracks, off LP bootleg)

- Welcome Princess Of Hell / A Dangerous Meeting - XXX


MERCYFUL FATE "Countdown Cafe, St. Annahoeve, Hilversum, Holland, January 20th, 1984"
(46:20 min, 1984, 9 tracks, FM and unknown*)

- Intro / Black Masses / Curse Of The Pharaohs / Evil / Gypsy / Into The Coven / The Oath* / Doomed By
The Living Dead* / Corpse Without Soul* (* not included in the original broadcast) -


MERCYFUL FATE "Countdown Cafe, St. Annahoeve, Hilversum, Holland, January 20th, 1984"
(23:18 min, 1984, 6 tracks, FM, origin: FLAC)

- intro / Black Masses / Curse Of The Pharaohs / Evil / Gypsy / Into The Coven -

NOTE: This has a different tracklist [less tracks, unfortunately] and sounds
a lot better than the 9-track version listed beforehand.


XXX MERCYFUL FATE "Unknown Venue, Hilversum, Holland, 21st? January 1984"
(17:56 min, 1984, 4 tracks, off LP bootleg)

- Black Masses / Evil / Gypsy / Into The Coven - XXX


MERCYFUL FATE "Elkerlyck, Luttenberg, Holland, January 22nd, 1984 incl. soundcheck"
(76:23 min, 1984, 13 tracks, SB, origin: FLAC)

- soundcheck / Black Masses [fades in] / Doomed by the Living Dead / Curse of the Pharaohs / Evil / Satan's Fall /
Into the Coven / Gypsy / The Oath / At the Sound of the Demon Bell / A Corpse Without Soul / guitar
solo Hank Sherman / Nuns Have No Fun -


MERCYFUL FATE "Odissea 2001, Milan, Italy, February 20th, 1984"
(67:57 min, 1984, 13 tracks, good audience, origin: FLAC)

- intro / Doomed By The Living Dead / Black Masses / Curse Of The Pharaohs / Evil / Satan's Fall / Into The Coven /
Gypsy / The Oath / At The Sound Of The Demon Bell / A Corpse Without Soul /
guitar solo / Nuns Have No Fun -


MERCYFUL FATE "City Hall, St. Albans, UK, March 3rd, 1984"
(29:18 min, 1984, 6 tracks, audience, origin: FLAC)

- Doomed By The Living Dead / Curse Of The Pharaohs / Evil / Into The Coven / Black Funeral / Black Masses -


MERCYFUL FATE "Heavy Sound Festival, Poperinge, Belgium, June 10th, 1984"
(47:05 min, 1984, 8 tracks, audience, origin: FLAC)

- The Oath / Evil / Curse Of The Pharaos / Doomed By The Living Dead / Into The Coven /
Black Masses / Gypsy / A Corpse Without Soul -


MERCYFUL FATE "Starry Night, Portland, OR, October 20th, 1984 [1st US show ever]"
(72:49 min, 1984, 13 tracks, audience, origin: FLAC)

- The Oath / Doomed By The Living Dead / Curse Of The Pharaohs / Come To The Sabbath / Satan's Fall /
A Dangerous Meeting / Welcome Princess Of Hell / Nightmare / Into The Coven / Gypsy /
Evil / guitar solo Hank Sherman / Nuns Have No Fun -


MERCYFUL FATE "Kabuki Theatre, San Francisco, CA, October 26th, 1984"
(64:11 min, 1984, 11 tracks, audience, origin: FLAC)

- The Oath / Doomed By The Living Dead / Curse Of The Pharaohs / Come To The Sabbath / Satan's Fall /
A Dangerous Meeting / Into The Coven / Evil / guitar solo / Nuns Have No Fun /
A Corpse Without Soul -


MERCYFUL FATE "Spectrum, Montreal, Canada, November 7th, 1984"
(75:35 min, 1984, 13 tracks, good audience, origin: FLAC)

- Intro - Doomed By The Living Dead / Curse Of The Pharaohs / Come To The Sabbath / Into The Coven / Satan's Fall /
A Dangerous Meeting / Welcome Pricess Of Hell / The Oath / Gypsy / Evil / Guitar Solo
(Hank Shermann) / Nuns Have No Fun / Black Masses -


MERCYFUL FATE "L'Amour, New Yourk City, NY, November 9th, 1984"
(87:00 min, 1984, 15 tracks, OK audience, origin: FLAC)

- intro / Doomed By The Living Dead / Curse Of The Pharaohs / Come To The Sabbath / Into The Coven /
Satan's Fall / Dangerous Meeting / Welcome Princess Of Hell / A Corpse Without Soul /
The Oath / Hank Sherman guitar solo / Nuns Have No Fun / Gypsy /
Evil / Black Masses -


MERCYFUL FATE "Ontario Theater, Washington DC, WA, December 12th, 1984"
(41:15 min, 1984, 8 tracks, audience, origin: FLAC)

- Doomed By The Living Dead / Curse Of The Pharohs / Come To The Sabbath / Black Masses /
Into The Coven / Gypsy / The Oath / Evil -


MERCYFUL FATE "Christmas Metal Meeting, Bad Rappenau, Germany, December 29th, 1984"
(60:41 min, 1984, 10 tracks, audience)

- Intro / Doomed By The Living Dead / Curse Of The Pharaohs / Come To The Sabbath / Satan's Fall /
Into The Coven / Welcome Princess Of Hell / Gypsy / The Oath / Black Masses / Evil -


- 1985 -

MERCYFUL FATE "Saga Theatre, Copenhagen, Denmark, April 11th, 1985"
(92:34 min, 1985, 15 tracks, audience)

- Intro / Doomed By The Living Dead / Black Masses / A Dangerous Meeting / Come To The Sabbath / Satan's Fall /
Into The Coven / The Oath / Curse Of The Pharaohs / Welcome Princess Of Hell / Evil / Nuns Have
No Fun / Black Funeral / Gypsy / A Corpse Without Soul -


- 1993 -

MERCYFUL FATE "Saratoga Winners, Cahoes, NY, September 8th, 1993"
(103:02 min, 1993, 20 tracks, 2nd gen audience, origin: FLaC)

- The Oath / Curse Of The Pharoahs / The Bell Witch / The Old Oak / Doomed By The Living Dead / Corpse Without
Soul / Black Funeral / A Dangerous Meeting / Return Of The Vampire / drum solo / Room Of Golden Air /
Gypsy / Satan's Fall / Is That You Melissa / band introductions / Come To The Sabbath /
crowd noise / Egypt / crowd noise / Evil -


- 1995 -

XXX MERCYFUL FATE "Axis, Boston, MA, January 18th, 1995"
(93:43 min, 1995, 19 tracks, audience master, origin: FLaC)

- The Oath / Nightmare Be Thy Name / The Bell Witch / Curse Of The Pharoahs / Black Funeral / A Dangerous
Meeting / The Mad Arab / Is That You, Melissa / Doomed By The Living Dead / Moby Dick / band credits
(cut) / Egypt / My Demon / Satan's Fall / encore 1: crowd noise / Come To The Sabbath /
Angel Of Light / encore 2: crowd noise / Evil - XXX


MERCYFUL FATE "Unknown Venue, Santiago, Chile, August 15th, 1999"
(58:36 min, 1999, 10 tracks, SB, origin: FLaC)

- Intro / Evil / Doomed By The Living Dead / Nightmare / Desecration of Souls / Burn in Hell /
The Oath / Melissa / Last Rites / Satan's Fall -


RELATED

BRATS [pre-MERCYFUL FATE] "The Lost Tapes - Copenhagen 1979, recorded summer 1979"
(38:29 min, 1979, 16 tracks, my own transfer of the boot? LP, origin: FLAC)
[ARG! Records LP, feat. Hank Sherman]

- On Dope / No School / Technology Baby / Sense My Boy / Prostitute / Individual / D.I.M.T. / Zombie People /
Disco Sissy / Punk Fashion / Dreams / I Do What I Wanna Do / Can't Sleep /
Mr. Normal / Ladies / So Alone -


BRATS [pre-MERCYFUL FATE] "1980 Brats" [Diamond Records]
(43:20 min, 1980, 12 tracks, CD bootleg?, origin: FLAC)
[feat. Hank Sherman and Michael Denner]

- Oy-905 / Tame Me (Insomniac) / B-Brains / Punk Fashion / Complex (Don't Destroy Me) / Fuel / Heavy Rocker /
Pinned On My Eyelids / Sense My Boy / Ogcah Ghaszlihr / Accepted / Zombie People -



* (behind show title) - off original tape or of comparable quality
* (behind individual song title) - unreleased track / version





contact Plasmatzee